This page is in honor of Jeff Hickey, who co-founded the Third Hand Capo Company in 1979 and died suddenly on 7/14/09.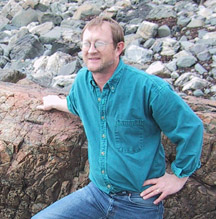 In addition to being an industrious and creative guy and a devoted father, Jeff was also a fine musician. To help his family, we are encouraging people to buy a copy of Jeff's marvelous and award-winning CD "Loose Ends" while they last. He left behind a couple boxes of them, and buying a CD is a great way to remember this fine man and to help his family in their time of need. The CD's are profssional, replicated, full-color, shrink-wrapped CD's, of just Jeff singing with his guitar. Up-close and personal, and brilliantly done...
CD- $20 includes shipping in the US or Canada
You can buy the CD with a credit card or PayPal at
The album is now available for digital sale on Google/Android Market
Harvey Reid (Woodpecker Multimedia) is the clearinghouse for this, and if you use a MasterCard or VISA for the transaction it will appear on your billing statement that way.
*Check or money order Make payable to TERRY MIKRUT (Jeff's wife) but send the order to Woodpecker Records PO Box 815 York ME 03909
• PAYPAL orders send to info at woodpecker.com (use the @ symbol of course when you do it.)
• MasterCard or VISA: Phone 207-363-1886, email hreid at woodpecker.com
Please be sure to include your mailing address and a message or letter to Terry or to the world about Jeff with your order to Woodpecker, or email it as text or PDF to Harvey, and it will get sent to Terry and the kids.
Terry will get addressed, stamped shipping envelopes for your CD's and she will read your note and pop in the CD's and send them off to you.
Woodpecker Multimedia
PO Box 815
York - ME - 03909
Phone: 207-363-1886
---
Here is the email Harvey sent out explaining this project:
It is with great sadness and regret that I must now announce the passing of one of my favorite friends, Jefferson H. Hickey. He is survived by his wife Terry, his daughter Cayleigh (14) and his son Brendan. (12) On the night of June 27 he fell asleep at the wheel in a 1-car accident and after 2 weeks fighting for his life in intensive care, the end came very early this morning on July 14, his beloved Bastille Day.
I could drone on for a long time about Jeff's spirit, his powers of observation, his wit, his zest for life, and his fine musicianship. He had a truly impressive nose for finding and thoroughly enjoying what he saw as marvelous, and was almost always the first to see through nonsense and spot things that were unfair or bogus. I was always delighted to hear him describe with dead-on accuracy just which pop star, athlete, movie or marketing campaign or whatever he would notice deserved a bit of old-fashioned scoffing. I have known him since 1979 when we met in Nashville, and he has been a great friend and business associate of mine ever since.
I just returned from Wisconsin where did the best I could to say goodbye to Jeff and to help clean up the unfinished projects and details of his complicated, free-lance life style. In doing so I have come upon what I think is a perfect way to remember him and pay tribute to a fine man. Among the things in his house are a few hundred copies of his quite marvelous solo CD "Loose Ends" that he made at my studio in 2003. It is just Jeff playing guitar and singing, and it deservedly won the Madison Best Acoustic CD of the year award. I think it is a powerful recording, and one of the finest and most durable things he has left behind. He never really sent it to radio or "sold it" and I might myself even send some out to some radio people I know. There was only one pressing of 1000 discs of it, and it is not clear if there will ever be another pressing done.
Since he has left behind a family with no income, I would like to lead an effort to encourage all those who loved him or enjoyed his company to express their condolences in a way that is consistent with Jeff's lifelong love of music and participation in the underground "indie" music economy. Rather than sending something like flowers--
1) Buy his CD, or several...
2) Write a note to Terry or about Jeff -- you can send it to me as an email or a PDF. I might try to put them up on a web or Facebook page, and maybe Terry or the kids can make a book out of them...
You can of course buy CD's directly from Terry if you are in Madison, but to save her the hassles and for those of you who are not nearby, I would like to volunteer to collect $20 per copy for CD (which will cover credit card processing fees and shipping in US and Canada.) Make checks or money orders payable to Terry Mikrut but send them to me. Since I can take PayPal, MasterCard & VISA I will run the transaction through Woodpecker Records to save Terry the paperwork, and then pass along the money to her. Make sure you let me know the address where you want them shipped.
I want to collect the orders and send Terry a pre-addressed, stamped shipping envelope that she can just pop a CD into and seal up and toss in the mailbox to you. About once a week I will send her a box with all the envelopes and messages from you folks, and you'll get your CD (or CD's) a few days later. You'll have some great music on a real, replicated, shrink-wrapped CD, something durable and tangible to you remember Jeff, and his family will get some much-needed help paying their bills and buying some groceries.
http://www.thirdhandcapo.com/jeff

Chordally yours,
HARVEY REID
PO Box 815
York, Maine 03909
hreid@woodpecker.com
207-363-7265